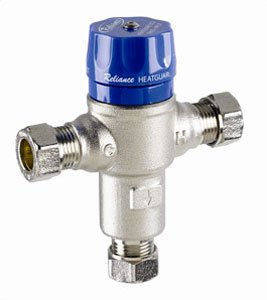 Do you require a backflow prevention device or Thermostatic mixing valve installed or tested?
The team at Coastwide Gas & Plumbing QLD has the required accreditation to install and commission both backflow prevention devices as well as thermostatic mixing valves. If you require any assistance or information on which type of device is required in a certain area please phone us and we will assist you with your query.
Our pricing is competitive and discounts are available for multiple valves on the same site.
Thermostatic Mixing Valve Explanation
A thermostatic mixing valve (TMV) is a valve that blends hot water with cold water to ensure constant, safe shower and bath outlet temperatures, preventing scalding.
The storage of water at high temperature removes one possible breeding ground for Legionella; the use of a thermostat, rather than a static mixing valve, provides increased safety against scalding, and increased user comfort, because the hot-water temperature remains constant.
Let one of our TMV Accredited Licensed plumbers at Coastwide Gas & Plumbing QLD complete this annual TMV testing for you. After testing the device, we will give you a certificate showing that the valve has been tested and to ensure customer compliance.
It is common practice to regulate the storage water temperature to above 60 °C (140 °F), and to circulate or distribute water at a temperature less than 50 °C (122 °F). Water above these temperatures can cause scald injuries.
Installing thermostatic mixing valves can ensure that water is delivered at the required temperature, thereby reducing the risk of scalding accidents; it also reduces hot water consumption from a supply that is maintained at a higher temperature.
If you would like to know more or require a quote then please call 0466657490 or by contact form.
Backflow Prevention Explanation
All properties connected to South East Queenslands Water's supply must install a backflow prevention device appropriate to the property's hazard rating. This 
reduces the risk of any contamination from a property flowing back through the 
connections to the local authorities water supply system.
Only licensed plumbers can test and install a backflow prevention valve or containment device.
Only licensed plumbers with backflow prevention accreditation issued by a registered 
training organisation can, test and commission backflow valves.
Backflow Valves Annual Testing
The need for annual testing
If a backflow valve is defective or faulty, it may:
•    not prevent a contaminated source entering the drinking water supply
•    cause water to be wasted through leaking devices
•    impact on the water pressure supplying to your property
How to have your Backflow Prevention Device or Backflow Valves Tested
A backflow prevention accredited licensed plumber will need to test all of your devices.
After testing your device Coastwide Gas & Plumbing QLD will give you a yellow copy of the Backflow Prevention Device Inspection and Maintenance Report.
The original will be sent to your local authority within 2 days of testing to ensure customer compliance with government backflow prevention requirements.
How does backflow occur?
The water supply system is designed to ensure that water flows to your property under pressure. If this pressure is not maintained, there is a chance that water could be drawn backwards into the water main.
Water pressure can be affected when:
there is a break in the water main
water is being pumped from the main water supply during a fire
a customer is using water at a higher pressure than the pressure supplied by the Local Water Authority
heavy water use downstream reduces water pressure upstream
the water outlet at the property is higher than the water main, causing constant back pressure
There is a risk to public health if there is a cross connection between your water supply and a contaminated source. If there is a pressure drop in the water main, a vacuum could be created in the water supply system. Under certain conditions this creates a siphoning effect and draws liquid from a contaminated source back into the drinking water supply. 
A number of different property types pose a particular risk to public health through cross connections
These include:
chemical plants
pest control companies
market gardeners
golf courses/sporting ovals
caravan parks
greywater treatment systems
metal processing plants
paint manufacturers
laundries
nurseries
residential properties with rainwater storage
Properly installed and maintained backflow prevention devices or valves are critical elements of safe drinking water systems in our communities and workplace
If you would like to know more or require a quote then please call 0466657490 or via the online enquiry form.